Thank You for Attending! See You TJCAS2020 in Taiwan.
Group photo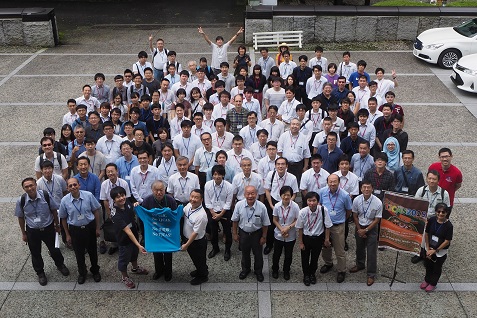 Snapshot
Progress for TJCAS2020  

Latest News
Aug. 29, 2019

Aug. 29, 2019

Aug. 18, 2019

To participant who come by private car (There is no private parking area for TJCAS2019).

Aug. 12, 2019

Early Registration fee must be paid until 15th August.

Aug. 12, 2019

Japanese summer is cruel. TJCAS 2019 recommends casual clothes (no tie, no business suit, etc.).

Aug. 11, 2019

Please register for each program by 14th August. 23:59JST.
 Lunch of day2 & banquet are not a buffet style.
 The bus for excuresion has a capacity.

Aug. 11, 2019

No free Wifi in conference venue. Free from everyday work!

Aug. 5, 2019

Session program is released (ver. 2019/08/05)

Aug. 4, 2019

Please check the information about the peer review comments by Aug. 8.

Aug. 1, 2019

Accepted/Rejected notification was sent for all authors who did submission (The notification is not sent to co-authors).
If you have not recieved it yet, mail to kuwana.anna [at] gunma-u.ac.jp.

Aug. 1, 2019

Presentation Instructions information is added.

July 10, 2019

Registration, Research Matching Forum information is added.

June 28, 2019

Submission deadline is extended to July 15.

May 28, 2019

The Submission site is ready.

May 24, 2019

Hotel reservation around the venues at Nikko gradually becomes more difficult because August is the busy season. Book your hotel during the conference (Aug. 19-21) as soon as possible.

May 20, 2019

The 2nd Call for Paper is released.

Apr. 19, 2019

The 1st Call for Paper is released.

Apr. 02, 2019

The 1st (Preliminary) Call for Paper is released.

Apr. 02, 2019

TJCAS 2019 website is temporary open.
Please reload your browser by as there may be new information.

Important Dates
Deadline for 1-Page Summary: July 15 June 30 June 16, 2019
Deadline for Early Registration: August 7, 2019
The later schedule

About TJCAS 2019
The 5th Taiwan and Japan Conference on Circuits and Systems (TJCAS 2019) will be held at Nikko, Tochigi, Japan, August 19-21, 2019. The objectives of TJCAS are to provide a forum for exchange on the latest results related to circuits and systems and to enhance and/or develop various levels of cooperation between Taiwan and Japan. Papers describing original works in all aspects of circuits and systems are invited. TJCAS welcomes all researchers including students to present their latest researches on circuits and systems.

Organizers
IEEE CASS Japan Joint Chapter
IEEE CASS Kansai Chapter
IEEE CASS Fukuoka Chapter
IEEE CASS Shikoku Chapter
IEEE CASS Taipei Chapter
IEEE CASS Tainan Chapter

Clothes
TJCAS 2019 recommends casual clothes (no tie, no business suit, etc.). In addition, there is not a dress code for each social event.

Student Presentation Award
The TJCAS 2019 Committee will present the Student Presentation Award to a few student speakers who have excellent presentations. The selection of the award is based on the quality, uniqueness, and clarity of the presentation.

Cooperation

History of TJCAS
TJCAS 2018 http://tjcas2018.ee.nchu.edu.tw/
TJCAS 2017 http://vlc.sakura.ne.jp/tjcas2017/
TJCAS 2016 http://geec.ee.ncku.edu.tw/tjcas2016/
TJCAS 2015 https://chaos.keiei.shikoku-u.ac.jp/TJCAS15/


Contact Us
For more information about TJCAS 2019, please contact the committee.
tjcas19 [at] ml.gunma-u.ac.jp